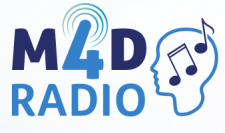 The Power of Music
for people living with dementia and those who care for them
Music is a wonderful connector and has the ability to bring people together in the here and now. It can enliven, stimulate and enable people living with dementia to express themselves creatively through musical engagement.
Research shows that music can help reduce the often distressing symptoms of dementia, such as agitation, apathy and anxiety.

There is a part of us that lives in the music that we danced and partied to in our youth. Instantly we remember those golden moments of the Forties, Fifties, Sixties, Seventies and Eighties.
M4D Radio is a group of 5 themed radio stations available 24 hours a day, 365 days a year, playing music that evokes memories. Choose your era, listen, enjoy, hum along to the tune and even harmonise with the lead singer! Please note this is an internet radio station
Our musical memories are typically made from our early teen years through to our late twenties. This radio station enables you to choose your birth year to listen to the musical decade where your musical memories were made:
Sing Along with The Debenham Project Songbook
Many of you will know Stephen Mckie, our wonderful "Music Man", who has entertained us many times at our annual Garden and Christmas 'Carers Club' parties.
Stephen has, in his own inimitable style, recorded an extended concert of all the songs we love to sing :-
"A Mellifluent Old Time Music Hall Extravaganza for your Delectation."
I guarantee that you will find yourselves wanting to join in.
Click on the white triangle in the middle of the picture to start the video
We have produced "The Debenham Project Songbook" with the words to all the songs.