At our first public meeting in April 2009 it was made clear that we should not limit our aims – that we should not be afraid to "have a dream" in which:
No one should have to leave their friends, family and neighbours in order to be cared for with love and dignity – "7, 10, 14 miles is too far".
¨ No matter how frail we might become, we will still be able to be part of our community – to visit the shops and cafe, to have our grandchildren pop in, and to pass "the time of day" in the High Street.
No one should have to be admitted to hospital, or stay in hospital when they can be cared for in the community, by the community.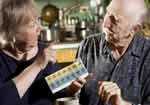 Our project is working to REALISE this vision – it is a continuing challenge, but "what you don't start you cannot finish".
Gradually that DREAM has become a VISION – the "Vision of Caring" – and our research has shown that, despite the inherent resistance of the NHS and Local Government to change, it is becoming a PRACTICAL plan in which rural communities such as Debenham will lead the way in caring for its elderly frail and ageing members of the community.
The Debenham Project has proved what a community can do for those who give up their lives to care for someone close. Whatever financial difficulties the future might bring, it will continue to provide whatever help it can. The project will grow and evolve over the coming years.
If this has been achieved in such a short time, why should we not believe that it is possible to care for those who have become frail, as we would hope to be cared for?